So this is my new ride 🙂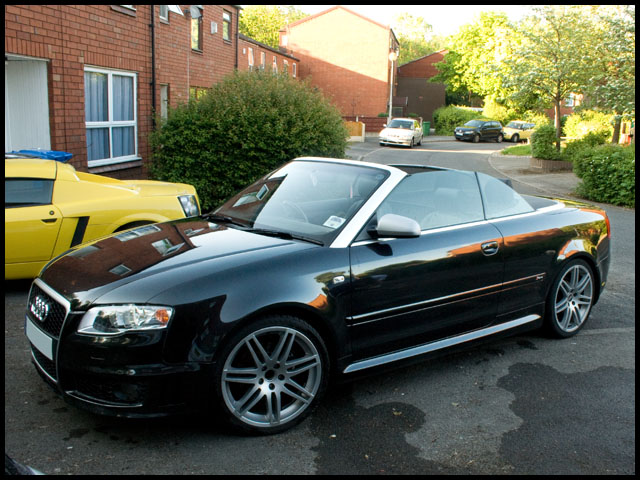 It is an Audi A4 Cabriolet with a 3.0L V6 engine.
I originally was pondering whether I should get an A4 convertible or a Boxster, but then an eBay auction came up that I couldn't ignore. So here we are, an A4 with full RS4 body kit (as you can tell from the above pic!), RS4 replica wheels, and lots of upgraded parts such as the ever popular Audi RNS-E navigation system and full leather interior.
The body kit looks great, but one thing that gets on my nerve is that it does not have the RS4 rear arches. I will need to see how I can get them on. It has RS4 badges all around which I don't like, so they will be removed in due course (but kept in a safe place for when I eventually sell the car).
As for how it drives, the engine and transmission are quite nice, but the suspension and steering are severely lacking – it's like driving a boat! It is probably to do with the weight, but it will need sorting in the future anyhow. It looks sporty but it is in no way a sports car, and this made me think that maybe I should have bought a Boxster instead.
The car is really comfortable and well-made though, like most German cars. This being my first convertible and the weather recently being so nice, have made me fallen in love with driving with the top down! Motoring with a breeze through my hair is really quite something.
Now the plan for this project. These are the first few things I want to sort out –
OE Xenon HID head lights
Facelift rear lights
Front component speakers
Sub and amp in the boot (not much space though, so will need to do a bit of work)
Suspension
OE Bluetooth handsfree
And then moving on to mid-term, I would like to get these down –
RS4 rear arches
Auto-dimming rear-view mirror
OE front & rear parking sensors (quite a bit of wiring involved)
And then further on –
Big brake upgrade
Lip spoiler
Exhaust
Strutbrace
And more gadgets
And that's right, no engine mods. 🙁 This is because tuning the 3.0L V6 engine isn't exactly economical and I didn't want the VAG 1.8 Turbo engine for various reasons. We will see how it goes.
But I have done my first cosmetic mod already! 😀 I wrapped the interior inlays in 3M carbon-fibre vinyl, which was quite easy and looks very good. It can be seen from one of the pics below, although not as clear as I had hoped.
Now enjoy the pics!